This post has been featured!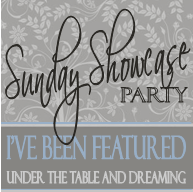 -:-
Throughout December, I shared several photos of our home all decked out for Christmas. Much of today will be spent taking down and packing up Christmas decor to await next year's holiday season…but there were a few changes we made to our home that are here to stay.
One of these changes was the dismantling of our home-made baby gate. This change was motivated by the number of Christmas parties we hosted, the fact that Josiah had started to play with and slam shut the door all the time (so the hinges had become progressively looser), and that we haven't used the gate for its intended purpose of gating in the little one for several months now (if not a year). I also have been tossing around the idea of moving our dining room table into the kitchen area so that the table top can help solve our lack of counter space problem…and I could then convert what is currently our dining room/office into a playroom/office. Not sure if we are still going to give that a try…but if we do decide to, the baby gate would have been a problem.
So, long story short, the baby gate is gone. The opening feels huge!
I thought I'd take the time to share a bit about it in case any of you have large openings for which you'd like to make your own custom baby gate…
Our opening was about 8 feet. The cheapest manufactured baby gate we could find for a space this large would have cost us around $200, and were made of cheap plastic and mesh fabric. I thought they looked tacky and cost too much. So we made our own out of wood, pvc pipe, and stray paint for under $50 (almost half of which was spent on a nice rounded piece of wood for the top…using a square dowel would have made it even cheaper!)
I don't have any pictures of the process…sorry! But here is how we did it:
1. First I had to convince my husband that this would work, and that we should do it (he wasn't so sure)…I drew up some plans on graph paper, completely to scale. He still wasn't convinced that pvc pipe would be sturdy enough, or that we'd be able to anchor it into the floor well enough to keep it standing up straight. But he loves me, so he agreed to give it a shot. Even if you don't have to draw up plans to sell the idea, I think it was very helpful to get all the measurements down so we knew how far to space the pipes.
2. We headed out to gather up the necessary materials: pvc pipes, square dowels, a wooden railing for the top, gorilla glue, spray paint, 2 small hinges, and 1 sliding lock.
3.We cut the pvc pipe and wood pieces to our desired lengths. Since your gate probably won't be the exact same size and/or you'll want to door in a different place, I don't think there is much value in giving you the exact dimensions of ours. Plus that would require me getting the tape measure and going out to the garage where the gate is now stored. But if you are wondering about height, we made ours 32 inches tall and it seemed just right. When measuring your length, be sure to add in some extra width so that the door can swing open. I think we made the door about 3/8 of an inch smaller than the opening we left for it, and that did the trick.
4. We borrowed a drill press from a neighbor and drilled nice big even holes in the wood pieces slightly larger than the diameter of the pipes. The drill press was amazingly helpful, and if you have access to one, use it! If you don't you'll just have to be pretty precise about making sure to keep you drill nice and perpendicular to the wood so that all the pipes line up right.
5. Then we glued the pipes into the holes in the wood and clamped them together to dry. Not gonna lie, this was a challenge, and was definitely a two person job. It was tough to get all the pipes lined up with their respective holes at the same time and get them squeezed into place before the glue dried.
A note about glue: On our first attempt we use gorilla wood glue. We painted it all up, but didn't even get it inside and up before we realized that that wasn't going to work…it didn't stick to the PVC pipe. So we reglued everything using original gorilla glue. That worked. (I wish we would have known that the first time, because we had to redo all of our painting after regluing…so don't make the same mistake we did…you want to use original gorilla glue to attach PVC to wood). We would also recommend taking a rough grit sand paper to the edges of the pvc pipe to rough them up so the glue adheres better.

6. Once the glue was dry, we painted it all black. I think we used 3-4 cans of spray paint the first time (and another 1-2 when we had to reglue) although I don't really remember for sure. I wanted it to match the steely grey/black metal coffee table/end tables set that we have in our living room. They have kind of a finish somewhere between matte and satin, but the cheap spray paint only came in flat or glossy. So we used the cheap flat black spray paint and then did a top coat in with a clear satin spray paint. If I remember correctly, it only took one can of the clear.
7. We installed the sides of the gate by drilling with a masonry bit into our kitchen tile, and screwing it into the wall on both sides and at four places along the floor.
8. We attached to door with small black hinges and used a sliding lock as the latch.
Ta Da! A custom made baby gate for under $50…And I thought it was actually quite handsome as baby gates go.
-:-
Linked up to:
Look What I Made! @ Creations by Kara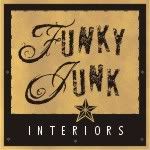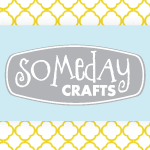 Frugal Friday @ www.LifeasMOM.com