This post has been featured!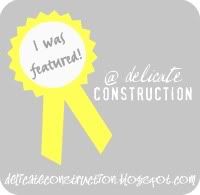 It was the night before we were to bring our plain Tshirts to our church gathering to have them screenprinted that I remembered it was the night before we were to bring our plain Tshirts to our church gathering to have them screenprinted. Neither of my children had a plain T-shirt in their closet. So I pulled out my repurpose bin (a box where I collect cast-offs waiting for new life),and whipped up a few screenprintable outfits. This is what I came up with for my Selah Mae:
…a simple dress with ties that I figured could also be worn as a shirt as she grows out of it….
It started as a simple "baby tee" (you could easily start with a larger T to make a bigger girl's dress).
Here is how I made it:
1. Cut straight across the shirt just below the armpit seam (we are going to take advantage of the side seems and bottom hem…so don't mess with those 🙂 ).
2. Cut off the top corner for a new arm opening (The picture shows two cuts because my first one wasn't big enough…if you do it right the first time you will only have to make one)…the amount you cut off is really just a guestimate of how much room you think your little girls will need in the armpits plus an extra inch and a half that will be folded over for casing. Don't worry too much about this…since it ties at the shoulder, it doesn't have to be perfect…just adjust to make it right when you tie it.
3. Out of a contrasting knit, cut a strip about an inch wide and the length of the arm opening you just cut. I serged the edges for decoration, but since knit does not unravel, this is not a necessary step.
4. Iron the strip in half and then sew it on to the unfinished arm opening (again, since knit does not unravel…you may choose to skip this step altogether and leave the edges unfinished. If you do this, it would be a good idea to sew a few stitches at the top of the t-shirt's side seam so that it does not come open.)
5. For the ties, you may use ribbon or cording…or make your own. I made my own out of another contrasting knit. I cut two strips that were 3 1/2 inches wide and about 25 inches long.
6. I sewed them together lengthwise, flipped them so the seam was hidden on the inside, and then stitched the edges shut.
7. The final step is sewing casing at the top of the dress and inserting your ties.
That's all there is to it!
After rounding up the materials I wanted to use, this project only took about 30 minutes from start to finish. Here it is on my little lady:
–
And here is the whole family sporting our Embassy Es: (The Embassy is the church family we are a part of here in Denver…click here to find out more :))
I'll tell you how I made Josiah's shirt next week.
-:-
I'm linking up: