This post has been featured!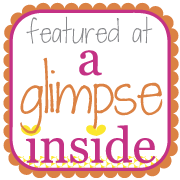 Our computer crashed yesterday. SO FRUSTRATING!!! Really makes me wish I had stood in line for one of those $200 laptops on Black Friday. But I didn't. So here I am, at the public library with a wiggling baby on my lap trying to stay on track with my posts (I have 5 posts a week planned out through the first part of May and I don't want to get behind…) I guess the "sunshine" in this situation is that I already had some pictures uploaded and ready to go 🙂
When some neighbors decided to replace their old privacy fence…we jumped on the opportunity to stock up on some free old wood. The project at hand was building a "wall" around the addition on our house…we did accomplish that task, but don't really have any pictures to prove it (I shall have to take some when this snow melts…)
What I do have are some pictures of this sign that was made from some of the leftover wood stash:
The 8 boards are cut the same length, but then are screwed to two support pieces in a sort of random way. Then the whole thing was lightly sanded and dry brushed with robin's egg blue paint leftover from when I painted this dresser ("Drybrushing" is a paint  method done by dipping just the very tips of a stiff bristle brush in paint…so that it does not fully cover the wood).
For the lettering, I first tried to transfer them by printing the words in reverse, wetting the paper, and rubbing the ink to transfer it (this is the way Sarah from Diddle Dumpling suggests doing word art projects in this tutorial). I think this is a genius method, and I intend to try it again on future projects…however, this method did not work for this project as the wood surface was too rough and the paint coverage so sparse. I then tried the old tried and true method of "carbon" transfer by marking up the back of paper with pencil lead and then tracing around the letters so that the lead would be transferred to the wood as I traced around the letters, leaving a faint outline that can be filled in with paint.  This didn't work either…for the same reasons. So I ended up cutting the letters out to make a sort of stencil and then using it as a guide as I hand-painted each letter You can't trust this as a true stencil because the paint can seep through the paper or in around the edges…but since it is only a guide you don't have to worry about perfect cutting either.This method was more time-consuming than the other methods may have been…but it still got the job done, and was certainly preferable to free-handing in my book. I used a mixture of dark gray paint and brown glaze.
So here it is:
I think it would be cute to add "Kick off 'dem Boots" in the upper left hand side in the same font. But I am not a country girl… YET 🙂
I didn't realize until after snapping these pictures that my framed burlap white board is currently blank…but you get the idea:
I am loving it, and have received several compliments since hanging it up 🙂
This button is now active on my profile page:
-:-
I'm linking up: