When I registered for baby gifts, I went through the diaper aisles at Target and Babies'R'Us with that little scanning gun and scanned every brand of diaper they sold. I had NO IDEA which diapers I should want. As I mentioned in this post about how blessed we have been through baby gifts, we received at least a 4-5 month supply of diapers before Josiah was even born and were able to try out a number of different brands. He was in a size 3 before I had to start shopping for diapers on my own, and only very recently (17- months) graduated to size 4. Here is a chart comparing various diaper brands and the price per diaper (for size 3) at a few different stores (usually the price is calculated based on the biggest package they sell):
.                                                     Walmart        Target   Babies R Us  Other
Pampers Cruisers                       24.5               25.7          25.6       23.7 (Sams)
Pampers Baby Dry                     20.6              20.8          20.6
Huggies Movers                           25                  26.3
Huggies Snug & Dry                  20.6              20.8           20.6      18.6 (Sams)
Luvs                                                  16.6                16.7
Fisher Price                                                                              27.8       19.8 (King Soopers)
Walmart Parent's Choice           14.2
Target Up & Up                                                    14.5
Babies'R'Us "Especially for Baby"                                17.3
Sam's Club Member's Mark                                                           16.2 (Sams)
Albertson's Baby Basics                                                                  14.9 (Albertsons)
Kroger Value Diapers                                                                     14.4 (King Soopers)
Assuming we use around 8 diapers a day (we used more when Josiah was a newborn, but use less now), saving 10 cents a diaper would save us almost $300 over the course of a year. Assuming the diaper does the same job, I would say this is well worth it! But do they? Leaky diapers, extra laundry, and stained clothing can undo the savings really quickly! And I certainly wouldn't sentence my baby to perpetual diaper rash to save a few cents a day!
Based on my experience with a wide variety of diapers, I see no reason to spend any more than 15 cents a diaper. At 14.5 cents, Up&Up diapers are my standard (although the ones pictured are not Up&Up, Up&Up diapers have blue and green dots all over them and are really quite cute). They go on sale for as little as 11 cents a diaper (several months ago Target offered an additional 15% off if you bought 4 boxes, and it could be combined with a 10% off coupon). However, I think there are several good diaper choices, so if sale prices or coupons (or a combination of both), can get me a cheaper price on another brand–I go for it. There are just a few I crossed off our list.
Here are the diapers that are NOT worth the savings they might offer:
Babies'R'Us "Especially for Baby" – these were the worst diapers we tried by far…they were really thick and stiff. They were so thick we thought they must at least be absorbant…but it seemed we had leaks all the time because they were so stiff the elastic didn't hug his legs. I think a lot of people must have felt this way, because Babies'R'Us now has a new line of diapers. Unless I am mistaken, though, the price has not changed. At 17 cents a diaper, they just don't make the cut for me to try again.
King Sooper's Value Diapers – We bought these for a week while travelling. We had so many leaks, that we ran out of clean clothes for Josiah even though I always overpack.
Albertson's Baby Basics – I actually thought these might be one of my favorites for a little while because they have really nice stretchy tabs. However, after using them for about a month I felt that Josiah was having more diaper rashes than normal. I'd be willing to try them again now that he is older and his skin may not be so sensitive…but the Albertson's I went to just closed down.
Walmart Parent's Choice – Like the Albertson's diapers, I felt my son got diaper rashes with these diapers.
A FEW NOTES –
**While included on the price comparison chart, I have not actually tried Pamper's Cruisers, Huggies Movers, or Sam's Club Member's Mark diapers as I have not been able to get them for 15 cents a diaper.
**Fisher Price Happy Days Diapers are the ones pictured on Josiah's cute little tush. They have really cute designs with baby zoo animals. They also have color strips at the waistband so that even with extreme wiggling you can get the diaper tabs on symmetrically (they call it a "size right" system, and I suppose it is good for that, too :)). These are probably my favorite diapers of all the brands that we have used!
**We do use overnight/extra protection diapers at night, and will provide more information about them later. Fisher Price Happy Days and Nights Diapers include 20 overnight diapers and 76 regular diapers in a 96 diaper box. This means the price is not strictly comparable because the night-time diapers are more expensive.
Hope this helps!
I'm linking up: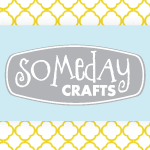 Frugal Friday @ www.LifeasMOM.com